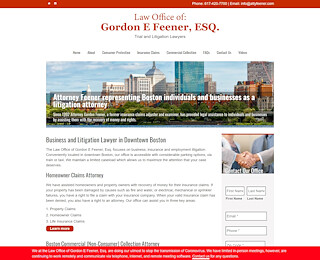 Do you need a small business attorney? The Law Office of Attorney Gordon Feener can help. Attorney Feener personally handles his cases and keeps a limited caseload to maximize the attention that each of his clients deserve. Contact him through his website so he can start helping you with litigation, commercial collection, insurance claims, and accounts receivable collection matters.  
Hiring a
small business attorney
is very important as they will be handling the sensitive issues and cases of your company. This is why before you hire a lawyer, you should interview several attorneys thoroughly. It is best to discuss all your concerns so that expectations are met. Here are some of the factors you should consider when choosing lawyer to represent your small business:
1.  Experience - Hire a lawyer who has vast knowledge in business law. You wouldn't hire a divorce lawyer to handle your business disputes.
2. Lawyers and paralegals - It is important from the start that you know who will handle your case, will it be the lawyer or will you be passed onto paralegals.
3. Clients - Are they already representing a competitor?
4. Communication - There are some lawyers who have so many clients they can only talk to you on scheduled meetings. Others are available for questions via phone or email.
5. Billing - Always ask on how a lawyer will bill you. This way, there will be no surprises. This also lets you budget appropriately for legal fees. Some attorneys will bill by consultation hour or minutes and charge for paralegal fees and researches.
Attorney Gordon Feener is a small business attorney who has years of experience in helping owners of small companies, like you. Our firm can handle everything from commercial collections to different business disputes. Search through our website for more information or call 617 742 7770 for a no-obligation consultation.
We welcome your comments!